Bit of a different post from me today and something that has taken me out of my comfort zone in terms of fashion. Although I like to think of myself as a fashionista, I'm generally pretty safe in my outfit choices and do tend to follow trends rather then think outside the box, especially when it comes to patterns and in particular mixing patterns.
I simply don't mix patterns! Infact I'm pretty ocd when it comes to patterns and can't have any two in the same outfit regardless of how small the print (
I try and steer clear of patterns as a general rule)
. Actually I'm ocd in many other aspects of my outfits, rarely do I clash colours and god forbid I mix gold and silver jewellery, accessories or other such accents! I need to try and let go of this weirdness as I genuinely admire people who do embrace the clashing and mixing of colours, patterns and textures.
So with this in mind, when given the chance to review a product from
prettify
I thought 'hey, lets get for some overly indulgent patterned tights' and that is exactly what one did! I literally picked the most patterned tights I could find and although they are beautiful, when I received them I had a little panic about what I was going to wear them with and how!
So what follows are three outfits that could potentially cure my pattern phobia. . . . (or perhaps not)!
The first outfit is playing it safe, a simple blazer and black skater shirt combo!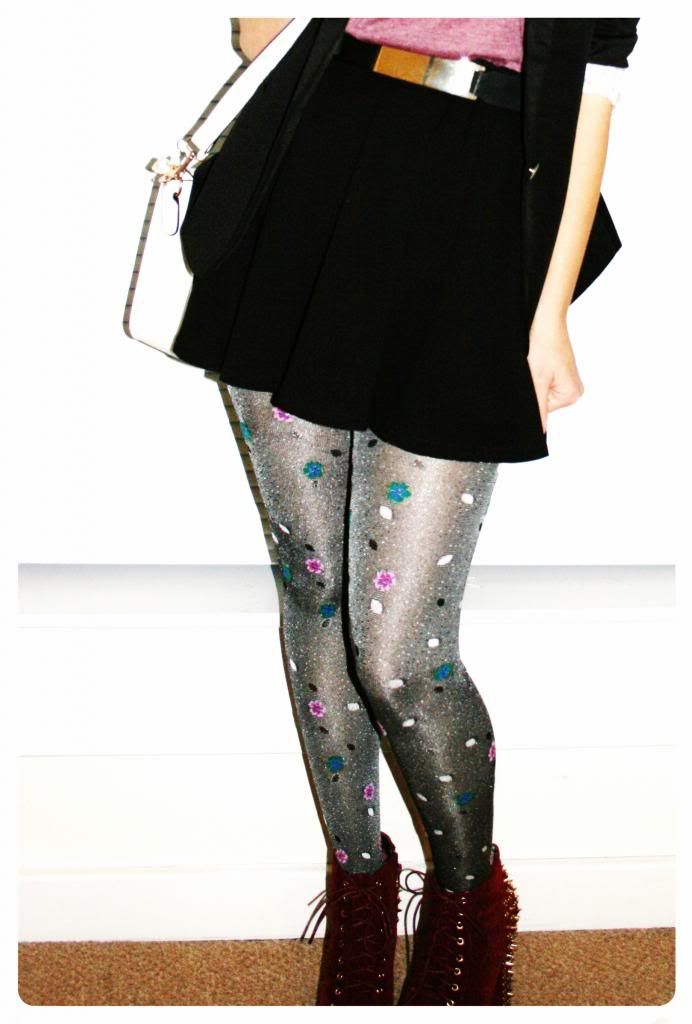 Blazer -

ebay

/ Top - Primark / Skirt - New Look / Belt - Primark / Bag - bangomango / Boots -

ebay

/ Tights - c/o

prettify
The second look is pushing the my boundaries a bit more!
Lace and patterned tights? Never!!!
The third outfit I admit is pretty simple and not mixing prints at all but it's very 'look at my tights' If you know what I mean??
Denim shirt - H&M / Shorts - Primark / Belt - Primark / Pumps - Primark / Tights - c/o

prettify
So you may think that I probably haven't clashed or mixed prints as much as I could have done but it's pretty daring for me and I do actually really like all three outfits (although still not sure I could venture out and about in any of them quite yet). If you like these tights you can find them
here
What is your favourite look? Does any one else have a slight ocd problem when it comes to putting outfits together?
Thanks
x