So our wedding is fast approaching and with less than 3 months to go everything is slowly coming together. Now I know it's bad luck for the groom to see the dress but no one said anything about the shoes right..?
I think most ladies are a fan of Manolos, especially after that Sex and the city
scene
, but most of us can't afford the pretty price tag and theres no way I'm paying nearly the same amount of money for my shoes than I did the actual dress. So I got my thinking cap on and it didn't take me long to figure out a cunning plan. I found myself some lovely satin bridal shoes on the ever popular wedding shoe site
elegant steps.
Their from the Rainbow brand and a pair I could get dyed to the perfect saffron shade using their
custom dye service
. I originally had a little confusion over the type of shoe I could get dyed but had a great email conversation with the customer service team who sorted it all out for me with no major issues. When they arrived I was ecstatically happy with the colour, they'll go perfectly with my planned single sunflower bouquet.
Next I needed to find the perfect shoe clip to pop on the front. I searched all the bridal accessory sites and though I was going to have to settle for just a standard sparkly clip until I stumbled upon an American website called Absolutely Audrey. They stocked the almost exact same shoe clip to the amazing Hangisi Manolo Blahnik's I so covet. I quickly added to my virtual shopping basket and hoped and prayed that they shipped to the UK... and they did... bloody brilliant. Obviously I know they're not exactly like the Manolos, but they're pretty darn close and for just £90 instead of £750 I'm chuffed.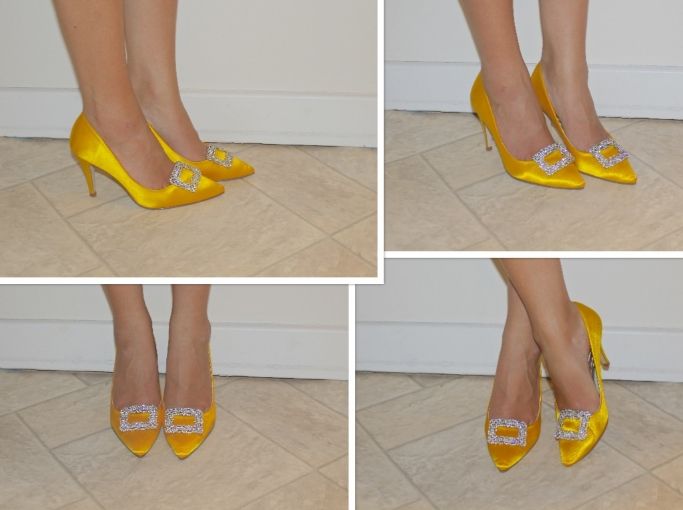 They really are beautiful shoes... Although I haven't actually tried them on with the wedding dress yet (I plan to do it this S
unday so fingers crossed they look ok) but even if they're not right for the dress I with definitely wear them with and without the shoe clips at other times.
Now all I need to do is say......