*Warning - Luke if you're reading this then please stop - Possible wedding dress spoiler alert*
As you all may know I recently got engaged, so my head has been awash with wedding themes, ideas and inspiration. I've decided to do a few wedding posts during my wedding planning including flowers, decorations and hair inspo. We're also hoping to make a lot of the wedding paraphernalia such as the invites, table plan, table centrepieces etc so a few DIY posts might be popped in too.
* * *
Amy from Fannycrown recently got in touch to introduce me to their brand and invite me to take part in their
blogger competition
, where you pick a dress from the site and write a blog post about how and why you might style it. Now to my delight they not only have a wedding dress section but many of their other evening dresses are very wedding inspired so I figured I would have a go and see if I could win my wedding dress (how exciting would that be?!).
The dress I have chosen is in their Premiere section so its a little more expensive but still pretty reasonable for a quality dress (especially a wedding dress). I've always said that I don't want a standard poofy, strapless wedding dress that most brides covet. I definitely want something more floaty and unique and this champagne coloured grecian inspired dress with a gorgeous embellished shoulder detail is just the ticket.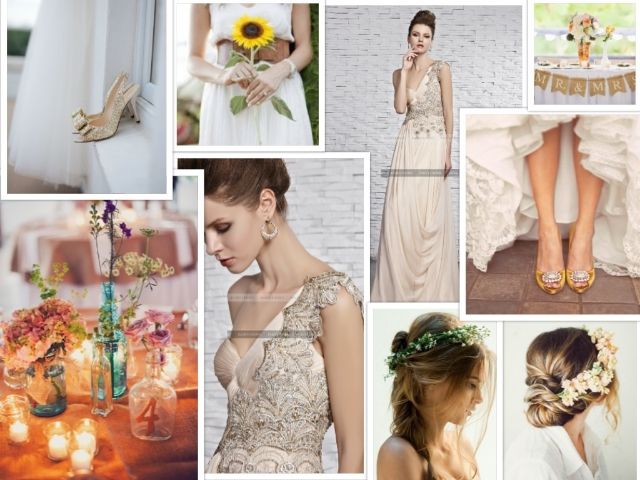 Dress pictures from Fannycrown all other pictures from Pinterest
To give you an idea about my general vision for our wedding in November this year I've created a mood board with all the kinds of inspiration that has been swilling around inside my brain and stopping me from sleeping (or concentrating on uni work lately). We're getting married in a gorgeous barn venue so rustic, shabby chic and boho are the themes that we're hoping to achieve.
Hope you enjoyed this post and are looking forward to more wedding ideas and pictures in the future.
Thanks
x
twitter //
bloglovin
//
Instagram