Hello my friends, guess what...? I have a week off work this week so I'm uber happy and excited as I can make my wedding invitations (DIY post to come soon) do some shopping and generally not think about work, woohoo! Although I have got a little uni work to do but we'll gloss over that shall we??
Quick outfit of the week for you all today. Its another fairly casual one with a bit of lippy included to glam up an otherwise boring Sunday.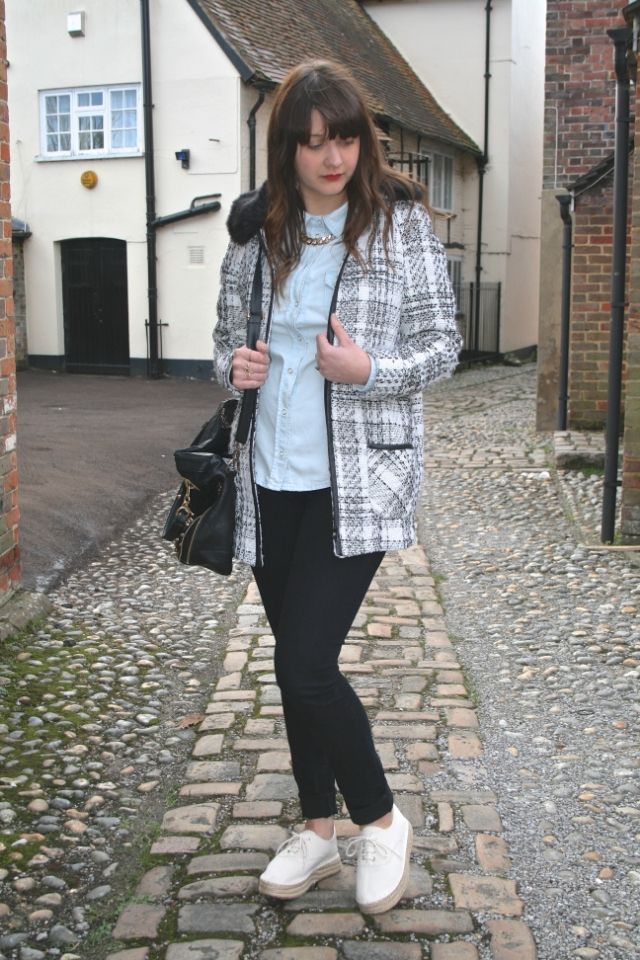 Coat - Primark // Denim shirt - H&M // Jeans - Primark // Bag - eBay // Shoes - c/o Matalan * // Necklace and giraffe ring - Claires Accessories // infinity ring - c/o Access all Asos *
I really like this outfit, its simple but I think the coat and accessories make it a little more modern and quirky. I especially love my little giraffe ring... I love giraffes btw. I also love my new infinity ring that come in my access all Asos package. I was actually a little disappointed with my access all Asos box, although I love this ring and the lovely nail varnish they gave me I was disappointed with how impersonal my package was. I kept seeing on other peoples Instagrams lovely little notes relating to the person and their blog but mine was a simple 'hope you like this ring and lippy' (even though they gave me a nail varnish). So yeah I don't wish to sound like a brat but I felt a little underwhelmed.
I'm feeling a little delicate today, we had friends round for dinner and drinks last night so I haven't had much sleep and both me and the boy have a bit of a head. So we're slobbing on the sofa now and watching Social Network with a nice cuppa.
I've got my first wedding related post coming on Wednesday so don't forget to check it out and let me know your thoughts. And leave your comments about todays outfit in the comments below.
Thanks
x