Two of my favourite things in this mid week outfit post. Fur and this amazing cobalt blue colour. I never use to be one for faux fur but I'm loving this very fluffy gillet even though it makes me feel ostrich like. I think it looks great chucked on over a jumper or cute dress. This blue colour is my favourite at the moment and as well this jumper I've got a coat and pair of shoes in the same shade (I won't wear them all at the same time perhaps a bit too much). The jumper goes perfectly with this little aztec mini from Primark though and who can resist a little denim collar poking out to.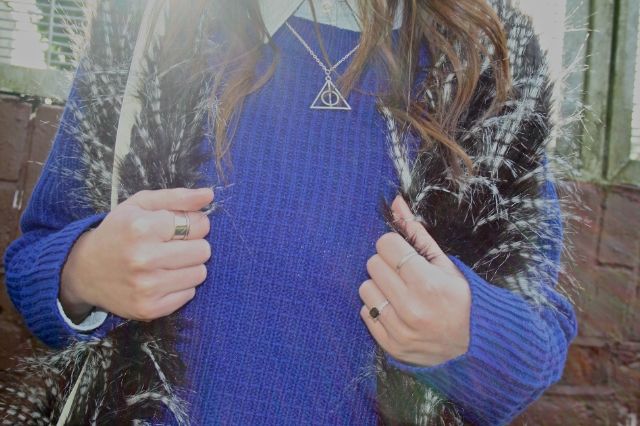 Gillet - eBay // Jumper - Primark // Denim shirt (underneath) - H&M // Skirt - H&M // Boots - George @ asda // Satchel - bangomango // Necklace - c/o daisymaejewellery *
Still loving my Deathly Hallows necklace from Daisy Mae jewellery and my faithful white satchel. I love the print on this skirt and the material is a bit thicker so I feel its more of a winter skirt if you know what I mean?!
Thanks for reading, let me know what you think.
x
twitter //
bloglovin
//
Instagram