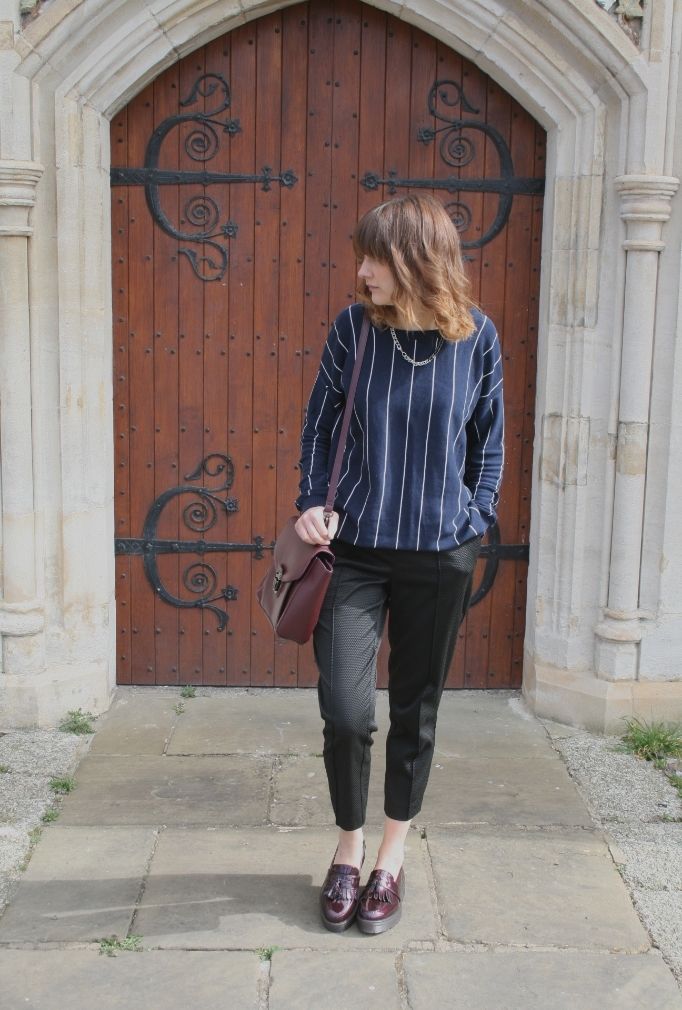 jumper - primark // trousers - primark // bag - primark // shoe - c/o shoezone * // chain necklace - h&m (old)

i am writing this post as i am trapped in the new flat. yep actually trapped. the husband went off to work early this morning and double locked the door from the outside and now I can't open the door (you can't lock/unlock from the inside, its an old school chain thingy). i have to admit i'm alittle distressed about the whole issue. . . but only because i had planned a shopping trip and now i can't go.
anyway as I have the time I thought I would write up this post. i wore this outfit to a friends gig last sunday. how cute are these platformed moccasins from
shoezone
. i love them, i love the colour, i love the shininess, i love that they are slip ons and i love the little bit of extra height they give me, to darn cute. i think they go perfectly with my little pinstripe jumper and smart black cropped trews. this outfit is a bargainers delight, shoezone shoes and the rest is primark, perf! p.s loving my hair in these pics, why can't it always look like this? right now i'm off to . . . well wait for luke to get home so i can leave the house. . .
thanks
x