I mentioned on my last outfit of the week post that I was going to a wedding reception and here is what I wore! I decided to be a good girl and recycle a dress I had previously worn for a wedding last year.
I was lucky enough to pick up this gorgeous cobalt blue dress in an ASOS sale last year. The colour is gorgeous and it has a sexy little cut out back too, whit whoo!
As it's a plain dress I teamed it with my lovely ornate collar necklace that Luke's Mum and Dad got me for Christmas and my bargaineous clutch also got another outing (so worth the £6). I haven't got a shoe shoot today as I just wore a rather uninspiring pair of black wedges.
Dress - ASOS (old) / Clutch - M&CO / Necklace - Gift / Ring - c/o Henryka * / Bracelet - Topshop / imPress nails - c/o Broadway nails *
It's boomin stunning and I can't stop wearing it, so pleased. It went fabulously with my gorgeous imPress nails (see review
here
). I'm love all the
amber and silver rings
on their site, especially this
cherry amber
one and
this one
too. Henryka do a great range of gorgeous jewellery so do check them out. I think something from their range would be a great gift for someone and I have my eye on a couple of bits for my Mum's birthday later in the year.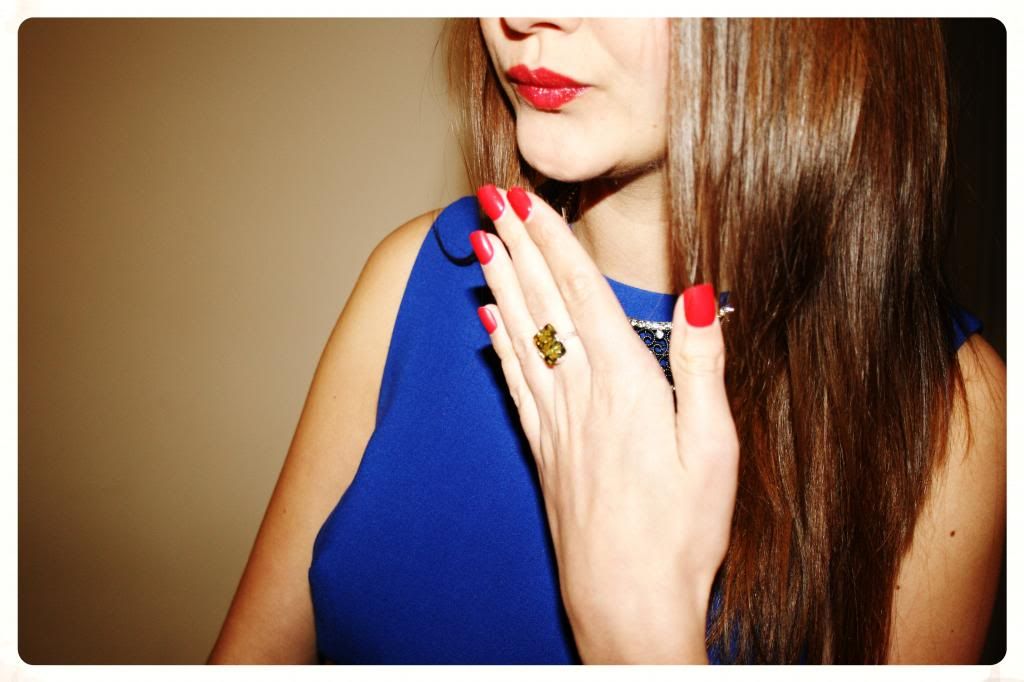 I also managed to get my hands on one of MUA's new power pouts, which I'm wearing in these pictures. I brought the 'Runaway' shade which is in coral packaging but as you can see comes out more of a reddy colour, its really good though! If you would like a proper review post then let me know.
And finally I had a very exciting tweet and email from
infashiononline.com
informing me that I had won their bloggers competition. They had been keenly reading my posts for the last month and I also sent them a series of draft posts looking at some of their shoes and luckily they loved my writing style and content so I'm now going to be their official blogger. So watch this space for
infashiononline
posts and more importantly the shoes they'll be sending me each month, wahoooooooo!!!!
Thanks