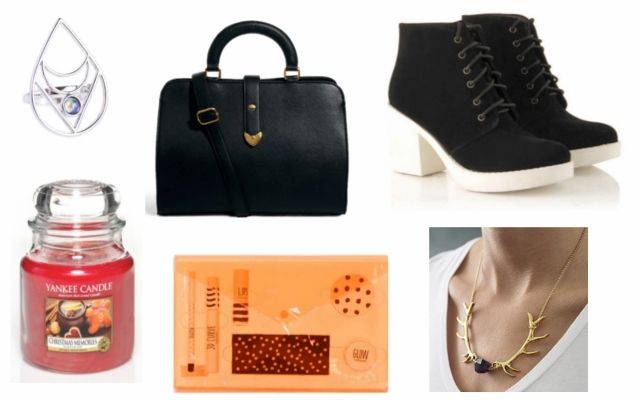 So Christmas is now two weeks away, yay!!! So I thought I'd get together another little present wish list for you to have a gander at (see my first Christmas wish list
here
). Feel free to buy and send me any of the above for Christmas, thanks then.
I've been fawning over this Dixi ring for ages, its so unique and its called 'perigee mystic unicorn tears' which is the cutest. I haven't had the pleasure of trying any Dixi products yet so I must indulge.
I love this smart bag from Asos, it reminds me of the Zara city bag, which I never managed to get.
These Gorgeous boots are just gorgeous, love the lace up detail and chunky white heels.
I do love a yummy smelling candle and this 'Christmas memories' one is bound to smell amazing.
I've only ever tried a Topshop lip bullet from their make up range so this little gift set featuring all the favourites would be a perfect starter kit.
Isn't this Antler necklace so pretty? Similarly to the Dixi ring I love how its really unique and would look great over a chunky jumper on Christmas day.
I love Christmas
Thanks
x
twitter //
bloglovin
//
Instagram