Ok so this week at work dragged on and on and on, it may well have been my longest feeling week at work EVER (and I've been there 7 years) and for no apparent reason. I think the prospect of the incredibly hot weekend left me feeling too excited and my anticipation of finally wearing shorts and summer dresses was just too much for me. I have literally been planning outfits in my head all week (cause that's how fashion bloggers role am I right?). I haven't even really done anything that interesting this weekend. I had lunch with the girls and wore the outfit in this 'outfit of the week'. Luke and I had a BBQ for two on Saturday evening and then carried on our 'Game of Thrones' obsession. On Sunday I wrote my staff appraisals in the sun wearing shorts and crop top (yep I succumbed and wore a crop top). And this evening we will be heading to Luke's Aunties for tea and Birthday cake and hopefully celebrating a Wimbledon win!!!
So as I said I wore this casual look to a friends for spot of lunch in the garden. We may have eaten loads and we may have all caught the sun a little bit too much. Word of advice don't cross your legs for too long in the sun this equals one burnt knee and also if you're thinking of getting a fringe please wait until at least September. Sun + heavy fringe = sweaty mess!!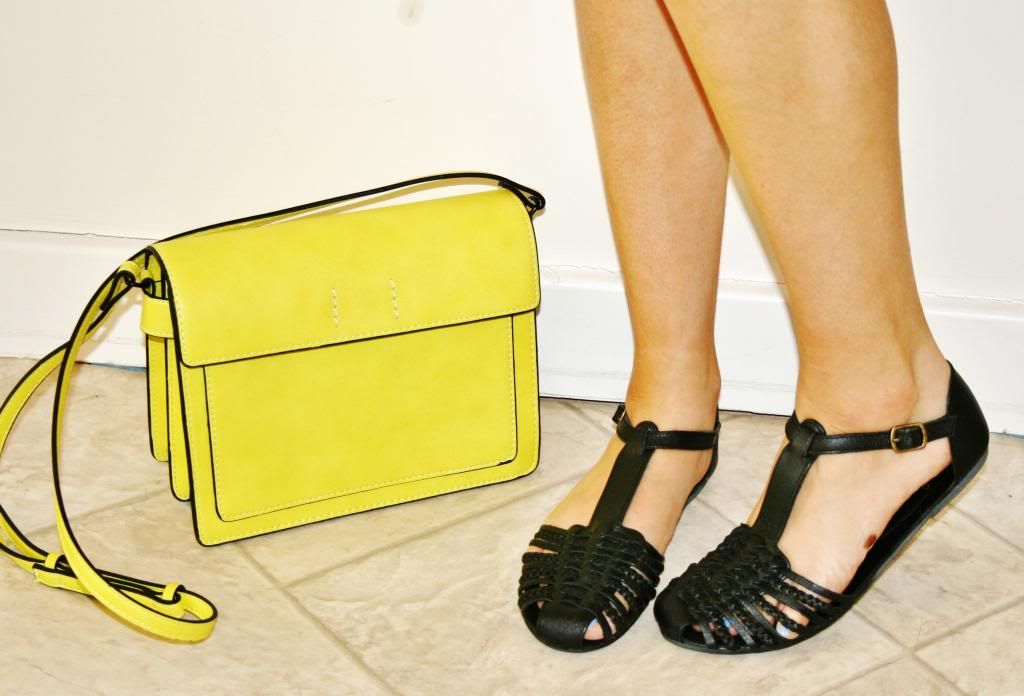 Dress - H&M (old) // Denim vest - New Look (was a Jacket) // Belt - c/o Matalan * // Bag - Zara // Sandals - Primark
Sunglasses - Primark // Rings - Primark
I wear this DIYed denim vest over pretty much all my summer dresses. (It was a Jacket, I hacked off the sleeves and added some studs) I think it instantly adds a bit of character and makes me feel a little more covered up and confident. This little summer dress was from H&M last year I think quite a few bloggers snapped it up at the time as it was only £7. Its so versatile and can be styled so many ways, definitely a fav.
I finally got my paws on one of the gorgeous Zara messenger bags. I definitely knew I wanted the yellow one and was pleased to see one left when I went on a little big shopping spree last weekend. I had also been lusting over these cute sandals that I have seen popping up on instagram pictures quite a lot, so cute! My sunglasses are part of said shopping spree too. Their a Primark bargain and are an adorable 50s vintagey kinda style.
Right I'm off to cool down in Tesco's doing the weekly shop, do let me know it you like the outfit! And check my
instagram
for more pics on this weekends outfits and frivolities.
Thanks
x