Hiiiiii fashion peeps, another week is done and another outfit of the week to show y'all!
Its quite a simple yet affective outfit this week and one I wore to see the boy play an acoustic gig in our local on friday night. (btw I took these outfit pics when I got home so the hair is more 'undone' then it should be and the make up not so fresh, ahem!!). I really didn't know what to wear and had a 'I've got no clothes moments' even though I have 2 wardrobes full (and thats after getting rid of three bags full last weekend, whoops). It wasn't a particularly nice evening so I knew a skirt or dress was the last thing I needed and I was a billy no mates all night so didn't want to stand around in heels on my lonesome.
So in the end this bright blazer, cute collared top, jeans and flat loafers combo fell out of the wardrobe. Staying with the 'I can't be bothered' theme I stuck my hair into a messy side plait and opted for barely there make up.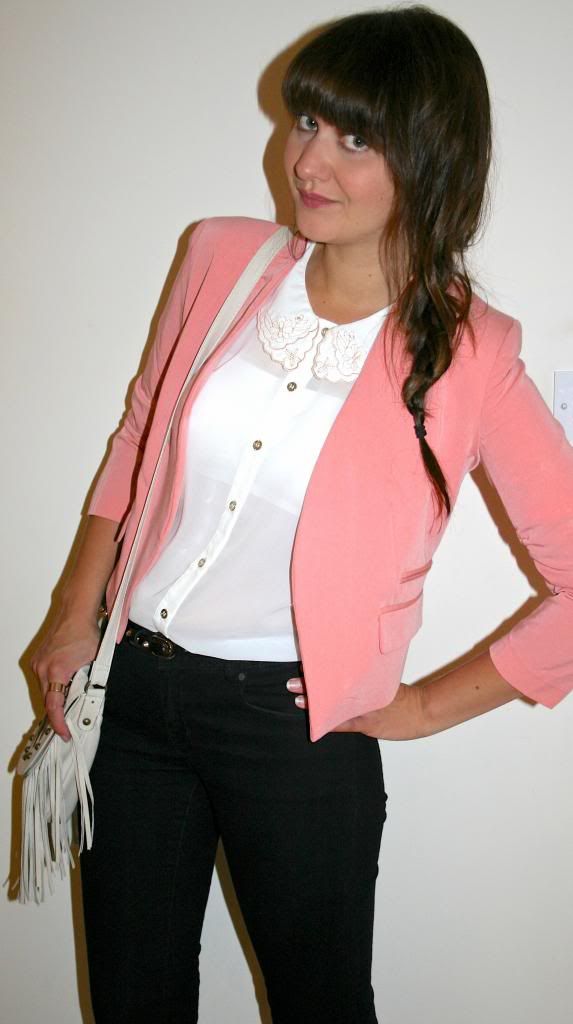 Blazer - eBay // Shirt - Primark // Jeans - Primark // Shoes - River Island // Bag - Matalan
In the end I was acually quite pleased with this little outfit, I'm so in love with this bargain eBay blazer it really jazzes up an outfit (yes I just said jazzes). I really love turning up my jeans at the moment to and am dreading the winter weather, the thought of socks (two pairs sometimes) fills me with loathing, although boots and opaque tights are a definite fav!
Thanks
x