Hi kids, how cold has it got, waaaaa! I see so many bloggers wishing for the cold weather and although I do love chunky knits, cool coats, gorgeous boots and a funky beanie hat, I also bloodly hate the cold weather. My eyes water in the wind, my nose is incredibly painful when the cold air first hits it and my fingers go white and numb almost straight away. So its safe to say I love the warmer weather and am already wishing for March to come.
Having said that I have an amazing new cobalt blue biker style coat from F&F at tesco, which I won through the twitter comp (#myffstyle). I wore said coat last night with this lovely outfit but didn't manage to get any photos with it in (but I'm sure you'll see it in a post soon). I've also embraced the winter boots again not only have I re-fallen in love with these gorgeous boots (see photos below) but I also managed to spend £60 in Asda the other day having popped some flat chelsea boots and some knee high riding boots in the trolly alongside the bread and milk.
Anyway my outfit of the week is something I wore last night to a restaurant with the boy and his parents. Lots of food was sampled and copious amounts of wine drunk so all in all a fab Saturday night. I love this outfit. I love how its quite simple but the amazing statement necklace and tropical print wrap skirt make it seem more interesting then it actually is. Admittedly I did wear black tights with this ensemble as I'm not quite brave enough for bare legs in the middle of October.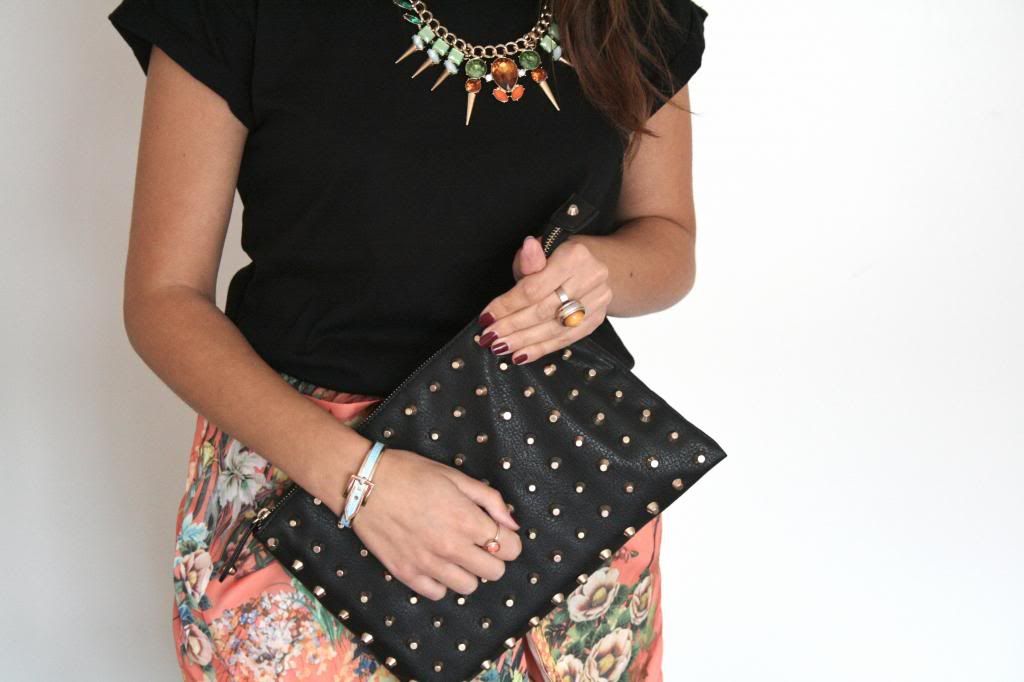 T-shirt - Primark // Necklace - c/o Persunmall * // Skirt - c/o Persunmall * // Bag - Primark // Ankle socks - Primark // Boots - Matalan // Rings - H&M // Bracelet - Stall in Portugal
The skirt is really short but as I said black tights were a necessity so I didn't have my legs on show. This necklace is absolutely stunning and I have worn it numerous times since receiving it a couple of weeks ago. Doesn't it look great against the simple black boyfriend tee?
Hope you liked this outfit of the week, be sure to check back on Wednesday as I have another celeb style steal to show you all featuring one of those fluffy jumpers (you know the ones!!!!) and another temporary tattoo from Fickle.
Thanks
x