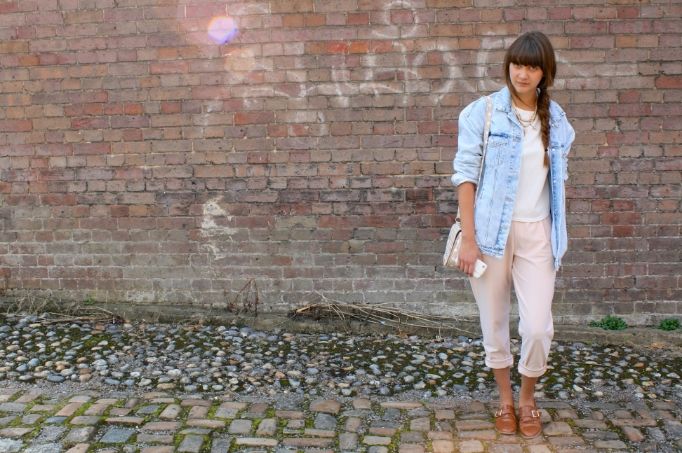 Jacket - Zara // Top - Select // Trousers - Boohoo // Shoes - Matalan // Necklace - New Look // Bag - George @ Asda
Another causal outfit today... (can you tell I had a boring weekend?). I never thought I'd be a denim jacket wearer but this oversized one I picked up in the Zara sale is my fav at the moment. I think it looks great with my pink crepe trousers, which I didn't think I could ever wear casually but actually they look fab with my bargain tan brogues from Matalan (£6 in the sale, ooo yeah). I did feel a little like Princess Jasmine in these trousers and plaited hair, but thats never a bad thing right?
So its now officially 2 months to the wedding, eek! We managed to order both our rings on Sunday so thats another thing ticked off the list. I'm also heading to the dress makers tonight to see if they can alter my dress. Its a touch too long and I'm paranoid about tripping over it as I walk down the aisle. hopefully the dress maker can ease my worries and I'll get my perfect dress. Can't believe its only two months away, this year has been mega fast.
Thanks
x