So another week is done and I have another outfit for you! Its a casual outfit today something I wore to uni on Thursday purely to keep warm and cosy on the smelly bus. But I rather liked the final result so thought I would share with you all (apologies if you follow my Instagram you may have already seen this outfit combo). I snapped up the infamous Bambi jumper from Primark a couple of weeks back. I love it as its longline which can be dressed up or down. Strangely this jumper smells of marzipan (anyone else found this?) but its not the worse thing to smell of I guess. I'm still a sucker for a collar so will be adding many under jumper and dresses this A/W. I'm rocking my awesome Tesco coat again (its love) and my trusty red satchel.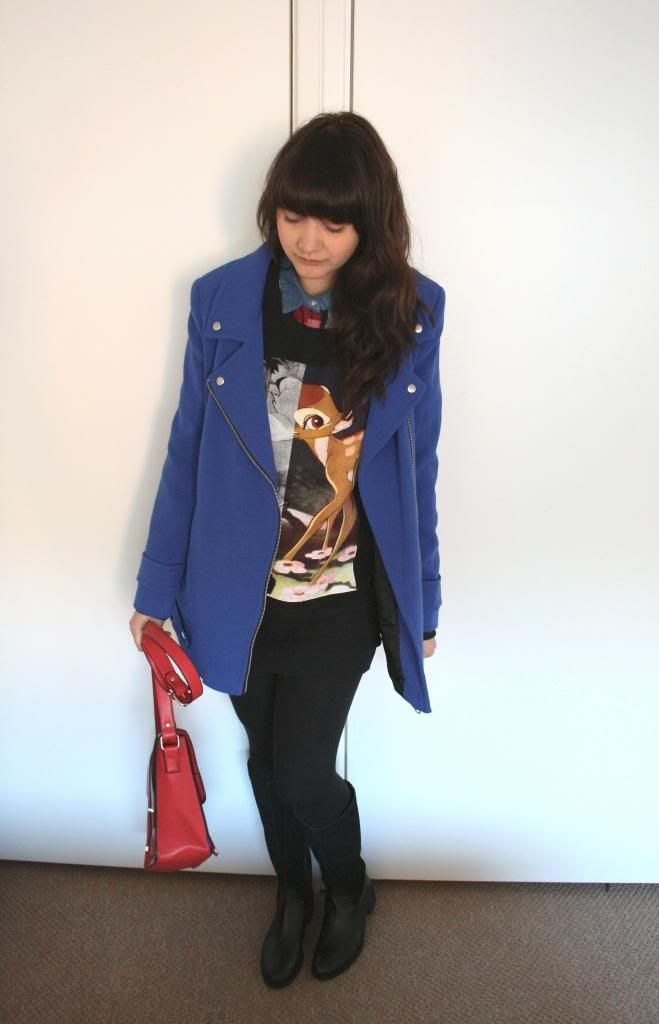 Coat - Tesco // Jumper - Primark // Shirt (see underneath) - Primark // Leggings - H&M // Boots - George@Asda // Bag - c/o soinfashion *

Its been a long old week at work but probably because I have a week off now, yay! Its the boys birthday on Wednesday so lots of fun to be had and we're hoping to get all the Christmas shopping done in one trip (really?). So a busy week ahead. Be sure to follow me on Instagram if you want to catch all the fun (@lazy2lovely).
I'm off to meet a friend for coffee now so toodleooo.
Thanks
x