Yayyyyy, I have a week off work.. ahem! Anyway a causal outfit of the week for y'all today. This is something I wore to the boys Grandad's birthday meal during the week. I didn't want to dress up but I also wanted to dress up enough (do you know what I mean?). He also lives out in the sticks so warm attire was necessary. I've re-awakened my love for this tasselled leather jacket from a Primark sale earlier this year, it literally goes with everything. The white satchel is out in full force again as are the autumn/winter boots. I've tried to mix up the patterns and textures a bit in this outfit. Rocking some polka dots, stripes, knitwear and leather all in one outfit combination, booyah! I just wish I had remembered to wear my oversized beanie hat in the outfit photos to show you the full A/W look. I didn't realise how much of this outfit was Primark until I typed it out. Yes I love Primark, not even sorry.
Jacket - Primark // polka dot shirt - Primark // Jumper - Primark // Jeans - Primark // Boots - Mataan // Bag - bangomango // Ankle socks - Primark // Necklace - Claires accesories // Rings - various from Primark and H&M
I do love a good gold statement necklace and yes although I love my chunky gold chain in this outfit post I think this beast of an
eagle necklace
from
Distressed
would look perfect with this outfit too. How awesome is it?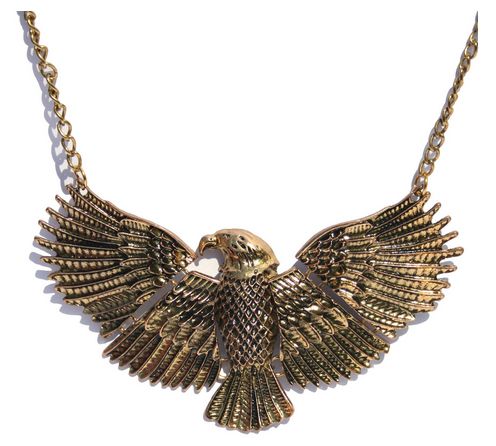 Hope you liked my outfit guys, have you all made the Autumn/Winter wardrobe transition yet?
P.S. Don't forget to enter my 1000 follower give-away to be in with a chance of winning a massive prize of
£40 Topshop vouchers
(who doesn't want that, huh)?
Thanks
x
Online Jewellery store
Henryka
have been having fun
raising money for Children In Need 2013!
The staff took part in their very own Stars in Their Eyes! The videos are now live so go
watch them and vote for your favourite
here
.
T
o donate to the very worthy cause click
here.